-
Our Insolvency
Jeremy Hoevenaar
Published Summer 2021
Paperback, 96pp.
-
Retail Price: $18.00
Buy on our site: $15.00
With dystopian clarity and a submerged, fugitive generosity, the poems in Our Insolvency register the seismic distortions that the regime of financialization has had on poetic activity and on daily life. Working in an exploratory but anxiously denatured lyric mode — "wedding," as the critic Thom Donovan puts it, "semiotic overcodification to a vertiginous, aphoristic meditation on the accelerating present" — Hoevenaar guides us in a pilgrim's progress of interlinked serial poems through the banalized and continuously renegotiated opacity of our technological reality. The exhilaration of idiom here is co-implicated with relentless redevelopment, where leisure is the continuation of work by other means, and where language comes prepacified by democratized corporatese. Of this shrewd austerity Ann Lauterbach writes, "The spare economy of these lines hides a linguistic trove," repackaging insolvency into a poetic derivative "fueled by a kind of furious condensation." If dichten once equaled condensare, it must now vie alongside tactics of downsizing, cost savings, efficiency, and optimization — and while poetry says more by saying less, the currency of a word such as gig shades, "just in time," into gag or even gulag. Hoevenaar's poems, pieced together with equal parts irony, love, borrowing, and outright theft, embrace their inability to pay their debts. They are not "good for it." But the hope is that, being good for something, they pay possibilities forward into an as yet unscripted future.
Praise for Our Insolvency
From line to mind-bending line of this book, I read the ever-significant claim that attention matters, that how we tend and what specifically we attend to matter, however liberating or terrifying that might be. At times this produces conditions in which "identity feels likely." There's agency there, but that's only one side of it. In the very next breath stability dissolves, and we find ourselves playing a level where there's no avatar to speak or speak of — just pixilated atmosphere and that little bitcrushed Beethoven flutter between two keys, signifying flight. Or, scarier, we become the avatar of forces we didn't sign up for or didn't realize we did. Well shit. As if that weren't enough to chew on, at the heart of it all is the brutal fact of our being in debt unnecessarily — and also the saving grace of our indebtedness to each other irrevocably. Luckily, Jeremy Hoevenaar guides us through this trip with generosity and jaw-dropping vocabular chops. Thus ("But whose / thusness?"), Our Insolvency: an absolutely mesmerizing long song of the myriad ways in which, being here, we're both denied and refuse being square. Reading it, "It's hard to be human / again, which maybe / means it's possible."
—Brett Price           
Have you ever wondered what it might be like to first encounter the poetry of Bruce Andrews or Alan Davies or Bob Perelman or Charles Bernstein before Language Poetry was Language Poetry? Or attend a show by The Mekons or The Ex or The Fall or DNA before Post-Punk was Post-Punk? Wedding semiotic overcodification to a vertiginous aphoristic meditation on the accelerating present, Jeremy Hoevenaar's Our Insolvency recomposes the stress and music of a life as it is practiced and endured under global finance. Like its forebears the work draws its vitality from the pervasive and ongoing political economic crisis of Finance Capital. As I make my way through the book, I find myself retracing my steps, trying to find purchase in a compression of thoughts so complete that it seems totality might overtake itself. I want to dwell with each one of its lyrical propositions, which — in the manner of Language Poetry's own capacities for rendering the prosody of capitalist realism and Post-Punk's penchant for sneering, self-deprecating social analysis — seem to hold a key for understanding the contemporary subject as it is conditioned by political economy: the hyper-marketization of the individual, the insolvency of language without a social body to give it coherence.
—Thom Donovan     
The spare economy of these lines hides a linguistic trove, "shoved into sentences by an unbidden music" which, like Bach's partitas, mines every note, each word, for maximum impact. The insistent titular insolvency is not of the imagination, which unfurls along the mind-streets of a digital city, fueled by a kind of furious condensation. As if a poem were in fact a spiral, reeling in the universe. Hold on tight, dear citizen reader, Jeremy Hoevenaar's poems are as terrifying as they are beautiful, as they make, "in pliant compression / steep music's patient light."
—Ann Lauterbach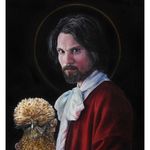 Jeremy Hoevenaar lives in a barrel with his beautiful family. He is the author of Cold Mountain Mirror Displacement (American Books), Our Insolvency (Resolving Host), and Insolvency, Insolvency! (Ugly Duckling Presse).