Mark Francis Johnson's Can of Human Heat takes the traditional worldbuilding function of speculative writing and distorts it around its most far-flung, self-reflexive poles. It isn't a book about a fantasy world or alternative timeline; it reads instead like the appendical traces of one sent back across dimensions — backstories, info-dumps, and other explanatory narrative niceties are dispensed with. At times hazily suggesting the romance involutions of Sidney's Old Arcadia, at times refashioning tropes of the fantasy or nautical adventure novel into a kind of absurdist underclass siege diary, Can of Human Heat presents a landscape that is neither utopian nor dystopian but instead something queerly sketched by an alien phenomenology. And yet within this damaged environment, Johnson has created a cast of characters that are part lumpen Candide and part Beckettian tramp — strangely likeable lifeforms manifesting an utter desensitization to the biological and ecological degradation whose consequences have totally altered them. In its paralogical epiphanies, Johnson's poem refashions classic modernist lyricism as high farce in which the comic intransigence of everyday objects extends even to the body—and to consciousness—itself.
"Mark Johnson reads more widely than just about anyone — consumes text and contemporary ideas equally voraciously and without academic boundaries, lives with text in a process whose output is poetry, sculpted to match the frenetic pace of contemporary information and the mind that never stops sorting it, sometimes so overloaded it becomes ecstatic, or gets caught in a loop, or creates a really good joke. Whatever the case, "in 50 years the export market for tomorrow's revels / imagine!" 
—Kristen Gallagher
"Comprising a book-length series of prose poems, Can of Human Heat isn't cyberpunk, steampunk, or punk at all, nor dystopic, nor utopic, sublime, industrial or postindustrial, or even natural (or supernatural, for that [non]matter), but a world that has been replaced by a bored desperation propped up by an underground market in the remnants of a previous civilization . . . a world whose shape is dictated entirely by its leftover objects. Can of Human Heat is a baroque world of devices lacking modus operandi walled in with characters picking through the wreckage in an attempt to gain agency. . . . The poem is not a humanitarian exercise.
"Johnson's poetry takes it cues from a myriad of approaches to different genres and styles: 1950s paperback hard science fiction, pulp magazine romance and fantasy tropes, an unnamed 15th-century book of poetry quarterbound in leather with marbled endpapers, behind-the-curtain pithy jokes and cynicisms, notes accompanying found ledgers of 18th-century trade ships, and a casual nod to the rhetoric and style of instruction manuals or the patents of obsolescent technologies or novelties. It's within these zones that Johnson's book leans into that nebulous category of I'm-not-quite-sure-what-this-is alongside the general strangeness of Motorman by David Ohle, The Anatomy of Melancholy by Robert Burton, or Four Lectures by Stephen Rodefer."  
—excerpted from a review by Ed Steck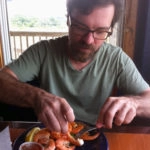 Mark Johnson is the author of Can of Human Heat, After Such Knowledge Park, How to Flit, and Treatise on Luck, as well as a variety of chapbooks and shorter works: Three Bad Wishes (Meow Press, 1995), Exactly Zero (Steel Bridge Publishing, 2011), Penniless Greenery (Editions Plane, 2012), Everything Isn't (Hidden Press, 2012), Dream of a Like Place (Sus Press, 2013), rFul (Hiding Press, 2013), GRUON BS (Make Now Books, 2014), and Yellow Highlighter (Troll Thread, 2015). He has documented aspects of his worldbuilding practice in Plastic Shed, a 2016 Present Tense Pamphlet, and in "The Truth and Life of Lies," presented in 2014 at Penn's Poetry & Poetics Reading Group. He has also published under the pseudonym Oren Mabb.  
Johnson attended high school in Albuquerque and then worked intermittently at an Alaskan cannery before learning the ropes of the book trade at Endicott Booksellers on the Upper West Side and Powell's Books in Oregon. He later studied linguistics at the University of Pennsylvania. He currently lives in Philadelphia, where he is an independent bookseller dealing in rare records and antiquarian books, and where he performs as DJ Hiding Place. Some of his mixes have been published by Gauss PDF and include extensive fake liner notes that very few people have noticed exist.
In 2019, with Andy Martrich and Jon Gorman, he founded Hiding Press, which you can visit [here].